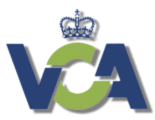 VCA, the Vehicle Certification Agency, is the UK's type approval authority. An executive agency of the UK Department of the Environment, Transport and the regions, they are leaders in the field with a broad range of expertise and are closely linked with the UK Government and European policy making on the enforcement of vehicle safety and environmental protection standards. The product certification branch is responsible for all EC, ECE and GB National type approval testing and certification for vehicle systems, components and whole vehicles. They conduct tests to all the automotive directives and regulations and issue internationally recognized approval certificates.
They can be contacted at either of the following addresses:
Head Office
Vehicle Certification Agency
1 The Eastgate Office Centre
Eastgate Road
Bristol, BS5 6XX
United Kingdom.
Tel: 44-117-951-5151
Fax: 44-117-952-4103
e-mail: enquiries@vca.gov.uk


Japan Office
VCA Japan
601 Browser Kanayama, 8-12 4-chome, Masaki
Naka-ku, Nagoya-shi, 460-0024, Japan
Contact: Mr. M Mulvaney, Mr. John Hedges.
Tel: 81-52-683-8832
Fax: 81-52-683-8831
e-mail: enquiries@vca-japan.com